STYLES
Get inspired by modern coastal
A soft, casual and relaxed look with a gentle palette inspired by nature.
Smaller spaces require about 2L
Covers 16m2
A medium space requires about 5L
Covers 40m2
A large space requires about 8L
Covers 64m2
"Try a feature wall in Puddle or Inner Self for a coastal feel. Then pull these colours into your soft furnishings throughout your space. "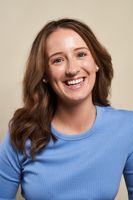 Our top picks for modern coastal
Melissa's Living Room
This beige in the perfect sandy tone to provide contrast to the crisp white and rustic timbers.
Alex's Living Room
This soft, sagey grey green is a beautiful coastal colour to add depth and remind you of the sea.
Phillipa's Bedroom
This greige is organic and calming and really defines the bed space for a cool, casual, coastal vibe
Eliza's Bedroom
Soft green blue featured on VJ pannelling, a linen sofa and a rattan lamp Eliza has created a coastal vide with a modern feel.
Jesse's Bedroom
The texture of the cane and bright white are serving up the coastal holiday vibes in this beautiful bedroom.
Tint x Brosa Collaboration
White with oatmeal accents and timber tones are peak modern coastal and are easier than taking up surfing.
What you'll need to paint your modern coastal
Shop all the products you need in one place.
Easy guides to get you rolling
Looking for something else?