SPACES
Get inspired by bedrooms
Create a bedroom worth staying awake for with these inspiring ideas.
Smaller bedrooms require about 2L
Covers 16m2
A medium bedroom requires about 5L
Covers 40m2
A large bedroom requires about 8L
Covers 64m2
"Bedrooms are great spaces to express yourself with colours you love. Light colours will wake you up, while darker hues will wind you down."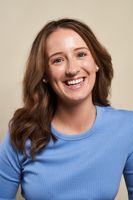 Our top picks for bedrooms
Sarah's Bedroom
Sarah created a moody background for her bed with a deep green feature wall.
Betty's Bedroom
Betty's welcoming bedroom is built around her paneled feature wall, finished in a pale dusty green.
Rhiannon's Bedroom
Floor to ceiling colour gives Rhiannon's bedroom an inviting and modern feel.
Megan's Bedroom
Megan's grey, panelled walls provide the perfect backdrop for her airy, light-filled space.
Rhys's Bedroom
Rhys' two tone stunner draws your eye in to the hanging artwork.
Isabelle's Bedroom
Isabelle used a bright, clean white to create a bedroom to love.
What you'll need to paint your bedroom
Shop all the products you need in one place.
Easy guides to get you rolling