SPACES
Get inspired by home offices
Home, or is it office? Who knows anymore! Use colour to shake up your at home work space.
Smaller home offices require about 2L
Covers 16m2
A medium home office requires about 5L
Covers 40m2
A large home office requires about 8L
Covers 64m2
"Use colour blocks to create an energising space that sits separate from the rest of your home AND impresses your video call mates."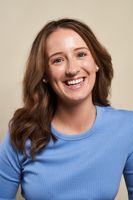 Our top picks for home offices
Danielle's Office Nook
Danielle transformed her working nook into a space you'd want to spend more time in with this dark greeny blue.
Julie's Home Office
Julie used a deep teal to add a subtle pop of colour to her at home work space.
Tania's Feature Wall
Now that's what we call a perfect work background, no need for zoom filter here.
Justine's Workspace
Justitne updated her home office with a soft green to bring some of those outdoor vibes inside.
Joshua's Home Office
Josh played with colour and pattern to help boost his creativity while working from home.
Emily's Home Office
This warm, muted blush gives Emily's home office an inviting feel — a nice space to step into to start the work day.
What you'll need to paint your home office
Shop all the products you need in one place.
Easy guides to get you rolling