SPACES
Get inspired by kitchens
Create a kitchen to feast your eyes on with these delicious ideas.
Smaller kitchens require about 2L
Covers 16m2
A medium kitchen requires about 5L
Covers 40m2
A large kitchen requires about 8L
Covers 64m2
"Painting your cabinets and changing the handles is an easy and quick way to keep your kitchen looking fresh for years to come."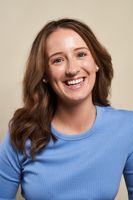 Our top picks for kitchens
Carly's Kitchen
Carly played up the natural textures and colours in her kitchen with warm beige feature wall.
Jessica's Kitchen
Jessica pulled inspo from her bench top and appliances, adding a little extra warmth with this light grey.
Jo's Kitchen
Jo kept it light and bright in this space with our favourite neutral white.
Jesse's Kitchen
Light timbers, creamy stoneware and a clean, bright white — a match made in kitchen heaven.
Isabelle's Kitchen
Clean lines and bright white walls in the perfect minimalist kitchen.
Stuart's Kitchen
Stuart used a dark earthy green to create a moody kitchen and show off the natural timber cabinetry.
What you'll need to paint your kitchen
Shop all the products you need in one place.
Easy guides to get you rolling