SPACES
Get inspired by kid's rooms
Let's be honest, this is about creating a space that will keep you calm and energised for those late nights full of snuggles and nursery rhymes.
Smaller kid's rooms require about 2L
Covers 16m2
A medium kid's room requires about 5L
Covers 40m2
A large kid's room requires about 8L
Covers 64m2
"Get stuck in picking colours with your kids and watch their little eyes light up with imagination. And if you're feeling adventerous they can even 'help' you paint!"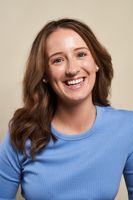 Our top picks for kid's rooms
Harrison's Nursery
Erin went all out with this pale blue feature wall in her sons nursery, she even let him pick the colour himself by letting him crawl to his fave swatch (eeek!).
Quinn's Bedroom
Quinn and her mum played with a pretty, pastel palette to create this perfect little space.
Emma's Playroom
Emma used a dusty blue to bring together this corner of her playroom. Tricking the eye with one tone on the wall, shelves and cabinets to give a simple yet fun finish.
Rhiannon's Son's Bedroom
Rhiannon used her sons favourite green as inspo for this feature wall, and created the perfect 'explorer' vibes.
Rebecca's Bedroom
Rebecca used her pillowcase as inspo to create fun colour blocks in this bedroom.
Romi's Room
Rebecca upcycled a vintage wardrobe for her daughter Romi and this pop of blush just makes the room sing.
What you'll need to paint your kid's room
Shop all the products you need in one place.
Easy guides to get you rolling