SPACES
Get inspired by living rooms
A living room is for living — pick colours that reflect who you are and you can't go wrong.
Smaller living rooms require about 2L
Covers 16m2
A medium living room requires about 5L
Covers 40m2
A large living room requires about 8L
Covers 64m2
"Living rooms can be magical spaces — adding a dark feature wall behind your TV can make it disappear, and strong, blocky colours can upgrade your 'everyday'. Remember to express yourself and trust your gut!"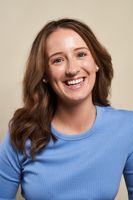 Our top picks for living rooms
Jenna's Living Room
Jenna used a clean, light blue to tie together her gorgeous and eclectic artwork.
Justine's Living Room
Justine used a soft and smoky green to create a luxe living space to compliment her style.
Melissa's Living Room
Melissa used a warm beige to highlight the natural textures and finishes in her space.
Megan's Living Room
Megan went for a warm grey with a hint of green to add a sense of calm to her living space.
Liz's Living Room
Liz went with neutral bright white to give her space a clean and fresh feel.
Jo's Living Room
Jo went with a white on white look, keeping the space bright and making the most of the natural light and beautiful pot plants.
What you'll need to paint your living room
Shop all the products you need in one place.
Easy guides to get you rolling