SPACES
Get inspired by dining rooms
A place to share precious moments with friends, family and food — but mainly food.
Smaller dining rooms require about 2L
Covers 16m2
A medium dining room requires about 5L
Covers 40m2
A large dining room requires about 8L
Covers 64m2
"If you have an open living area try featuring the largest wall behind your dining table to define the space."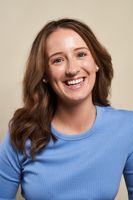 Our top picks for dining rooms
Jo's Dining Nook
Clean, bright walls keep this space nice and open — while the placement of the artwork above the table draws focus to the dining space.
Dowel Jones' Dining Room
Dowel Jones used a half wall to define the space and add detail at eye height when seated.
Michelle's Dining Space
Michelle painted a small feautre wall in a calming green to define her dining area.
Free to Feed's Dining Room
Snug as a Bug sits beautifully with Free to Feed's earthy palette.
Kelly's Dining Room at the East Hotel Canberra
Kelly used a deep colour palette with moody lighting to create an intimate vibe.
Anna's Dining Room
Inspired by her vintage vibe Anna chose Dawn Patrol to add more warmth to her space. It also contrasts beautifully with her soft sagey green chairs.
Joshua's Living & Dining Room
Joshua used colour blocking to add interest and define his living and dining areas.
What you'll need to paint your dining room
Shop all the products you need in one place.
Easy guides to get you rolling