COLOURS
Get inspired by beige
Beige is back baby! Add a little warmth to your space with the new neutral.
Smaller spaces require about 2L
Covers 16m2
A medium space requires about 5L
Covers 40m2
A large space requires about 8L
Covers 64m2
"Create a modern, monotone look by painting your trims the same colour as the walls."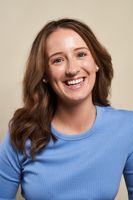 Melissa's Living Room
This beige softens and warms the crisp white creating a soft minimal look.
Isabelle's Nursery
This beige half wall warms the room and won't show little fingerprints.
Josh's Bedroom
This beige sits perfectly with the warm earthy tones of the timber and bedding.
Lauren from Made Rupert's Living Room
This beige sits perfectly with the linen and seagrass while giving the black and white a chance to pop.
Liz's Living Room
this beige sits perfectly with the oak tones and soft whites making a warm and organic space.
What you'll need to paint your beige
Shop all the products you need in one place.
Easy guides to get you rolling
Looking for other colours?