COLOURS
Get inspired by red
Bold and bright, deep and moody — Red is a colour that will warm up any space.
Smaller spaces require about 2L
Covers 16m2
A medium space requires about 5L
Covers 40m2
A large space requires about 8L
Covers 64m2
"Unsure about painting that wall red? Dip your toes in by starting with a door or piece of furniture. Or just paint the wall — you can always go over it!"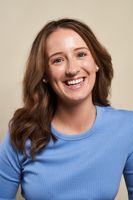 Jessica's Bedside Stool
Jess added a pop of colour to her bedroom with a fun DIY stool update.
Lisa's Feature Wall
Bright and bold, this feature wall plays on the colour and vibrant pieces already in the space.
Laura's Bedroom
Ella gave new life to a vintage cupboard for her daughter's room with a quick coat of our fave dusty pink.
Alyssa's Powder Room
Inspired but the terrazzo tiles, this deep red half wall also draws you eye to the bold floral wallpaper in the hallway.
What you'll need to paint your red
Shop all the products you need in one place.
Easy guides to get you rolling
Looking for other colours?