COLOURS
Get inspired by grey
Use greys to create smart, modern spaces that take your breath away.
Smaller spaces require about 2L
Covers 16m2
A medium space requires about 5L
Covers 40m2
A large space requires about 8L
Covers 64m2
"Use greys to balance out the natural lighting in your space—try a cool grey in warm spaces, or a warm grey in cool spaces."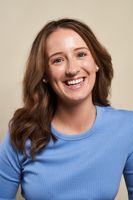 Granite Lane's Retail Space
This custom grey, with a hint of sage, pairs perfectly with this stunning artwork.
Ashleigh's Front Door
Ashleigh used our handy Pico to scan her tiles and perfectly match a paint for her door.
Jessica'a Kitchen
This light grey works well to bring out the warm tones in Jess's aluminium fittings and stone benchtop.
Megan's Bedroom
This warm grey adds a soft touch to Megan's gorgeous bedroom.
Alex's Living Room
This deep grey with a hint of green pairs perfectly with the timer, leather and greenery in the room.
Victoria's Cottage
Victoria played up the green tones in our grey paint Puddle, and paired it with a pale dusty green and warm white.
What you'll need to paint your grey
Shop all the products you need in one place.
Easy guides to get you rolling
Looking for other colours?