COLOURS
Get inspired by blue
Create a space to relax with blue-tiful hues.
Smaller spaces require about 2L
Covers 16m2
A medium space requires about 5L
Covers 40m2
A large space requires about 8L
Covers 64m2
"Blue is such a versatile colour because you really can make it work in any space. Try light and airy hues for north-facing spaces, and dark and moody tones for south-facing rooms."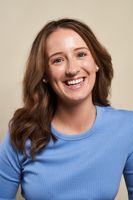 Fatima's Living Room
Blue tones are paired with bold yellows for maximum contrast and impact.
Jenna's Dining Room
This light cool blue is a soft and neutral foundation against the bold teal floor.
Megan Rainey
This deep navy really draws your eye to the dining area and inviting you in.
Ruby's Nursery
This blue green is the perfect accompaniment to crisp white and the oatmeal tones.
Meg's Living Room
Sunken Treasure is the perfect balance of modern and traditional.
Laura's Living Room
Pop colours draw you into the space and create a fun but relaxed vibe.
What you'll need to paint your blue
Shop all the products you need in one place.
Easy guides to get you rolling
Looking for other colours?