COLOURS
Get inspired by pink
Millenials didn't just invent smashed avocado, they also brought back pink (and don't we just love it!).
Smaller spaces require about 2L
Covers 16m2
A medium space requires about 5L
Covers 40m2
A large space requires about 8L
Covers 64m2
"Pinks pair well with greens and reds to add depth and contrast."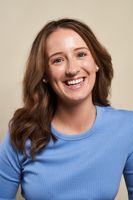 Pia's Bathroom
A pale pink bathroom is just as unexpected as it is fabulous, pair it with lots of greenery to really make the pink sing.
Anna's Living Room
The warm, soft tones in this space are only enhanced but the muted blush walls.
Meg's Powder Room
The prettiest powder room in all the land — this deep, dusty pink adds softness to an often neglected and boring space in the home.
Rhiannon's Bedroom
Pretty in pink — this dusty feature wall pulls together the soft furnishings and artwork in Rhiannon's space.
Angus's Living Room
Angus uses a bright, playful pink to create his dream living space.
Summer's Bedroom
Ella added a soft touch of pink to her daughters room by sprucing up a vintage cupboard in this dusty pink hue.
What you'll need to paint your pink
Shop all the products you need in one place.
Easy guides to get you rolling
Looking for other colours?