COLOURS
Get inspired by orange
Your doctor recommends a daily dose of Vitamin C. We recommend Orange.
Smaller spaces require about 2L
Covers 16m2
A medium space requires about 5L
Covers 40m2
A large space requires about 8L
Covers 64m2
"Oranges can infuse any space with an instant dose of fun. Pair with warm earthy tones to add some sophistication."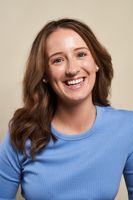 Brosa's Showroom
This custom colour was created to bring out natural timber tones.
Haley's Salon
This clean, pale peach adds warmth and fun to Hayley's salon.
Georgina's Nursery
A little pop of peach is right on theme in this sweet, playful nursery.
Zennie's Terrace
The terracotta tones of this wall make it the perfect choice for an outdoor space — warm, earthy and welcoming.
Jo's Front Door
Perfectly paired with the terracotta tiles, Jo's front door is one to put a smile on your face.
Suzanne's Entrance Way
These orange tones create a warm, welcoming entrance into Suzanne's home.
What you'll need to paint your orange
Shop all the products you need in one place.
Easy guides to get you rolling
Looking for other colours?