COLOURS
Get inspired by green
Green is an (ahem) evergreen option for a good reason — it's just so versatile!
Smaller spaces require about 2L
Covers 16m2
A medium space requires about 5L
Covers 40m2
A large space requires about 8L
Covers 64m2
"Combine greens with earthy finishes like timber, stone or brass for a warm, natural feel."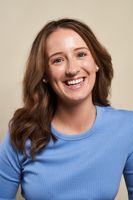 Fatima's Living Room
This deep, bluey green wall brings out the rich, jewel tones in Fatima's decor.
Character and Distinction's Office
With bright, bold colours make big, bold decisions. Painting this custom green from the trim to the ceiling creates a sophisticated and impactful space.
Brad's Home Office
Green's are a great choice to make your home office feel more lively and natural.
Jenna's Lounge
Jenna went with creamy pistachio coloured walls in honour of her of her favourite gelato flavour.
When Polly Met Murphy
Cam stayed true to theme in his plant nursery with this vibrant, minty hue.
Ali's Bedroom
This muted, olive green creates a calm, cozy space that anyone would want to chill out in.
What you'll need to paint your green
Shop all the products you need in one place.
Easy guides to get you rolling
Looking for other colours?