COLOURS
Get inspired by purple
A royal colour with a royal attitude, purple is as mysterious as it is elegant.
Smaller spaces require about 2L
Covers 16m2
A medium space requires about 5L
Covers 40m2
A large space requires about 8L
Covers 64m2
"Pair purples with darker tones — think timbers, brass and rattan — for a moody look. Or create softer looks with lighter, more airy tones."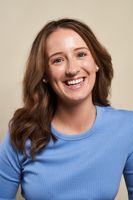 Jessica's Laundry
Jess used this warm, dusty lilac to add a pop of colour to her laundry room.
Naomi's Bedroom
Naomi was inspired by her bedding when picking a colour for her bedroom refresh.
Kayrene's Two Tone Wall
This deep warm purple and a dusty pink are the perfect pair for a two tone project.
The East Hotel Lobby
Kelly Ross Design used this deep purple to create a playful, inviting space.
What you'll need to paint your purple
Shop all the products you need in one place.
Easy guides to get you rolling
Looking for other colours?