COLOURS
Get inspired by white
Picking a white is surprisingly complicated, so we did the hard work and only brought the best options to the table.
Smaller spaces require about 2L
Covers 16m2
A medium space requires about 5L
Covers 40m2
A large space requires about 8L
Covers 64m2
"Using a warm white to balance out cool lighting is the oldest, and most effective, trick in the book."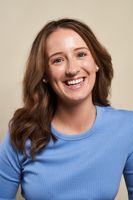 Zoe's Powder Room
This custom white pairs perfectly with the warm tiles and wood in this space.
Roisin and Zac's Garden
This custom white was perfectly matched to their house and helps create a little mediterranean oasis right at home.
Mish's Kitchen
This warm white brings a little softness to this open plan, exposed brick warehouse.
Isabelle's Living Room
This bright, neutral white sits perfectly with the other shades of white, grey and beige in the space.
Rosaria's Dining Room
Rosiara went with a bright, neutral white to uplift her cozy dining space.
Liz's Living Room
This bright, clean white helps to bounce light around this modern living space. Giving it a crisp, clean feel.
What you'll need to paint your white
Shop all the products you need in one place.
Easy guides to get you rolling
Looking for other colours?